The Last 7 Solos


Ad Sent

Ad Sent

Ad Sent

Ad Sent

Ad Sent

Ad Sent

Ad Sent







Get $37 of Free Ads when You Join Our Mailing List!


We respect your privacy and will never sell your info!




Our System Guarantees Your WebSite Will Get A Minimum of
200 Visitors Each Time You Send A Solo!
We have been here for almost 15 years helping Internet Marketers Succeed!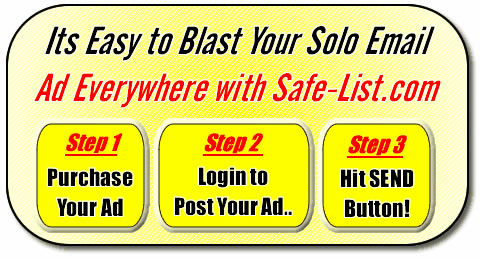 Just place your ad and leave the rest to us!
(Current Members Solos Below. Place mouse cursor in box to stop ads at any time!)


WE WILL DRIVE TRAFFIC TO YOUR WEBSITE!
You Don't Need to Click on or Get Tons Of Emails From Traffic Exchanges or Safelists To Promote Your Site! This is One Click Advertising made easy.
We do all the work for your site!


We Make It Easy To Advertise..
*Your website is Guaranteed traffic using our system!
*We can't guarantee you will make sales, that's up to your website, but you will get Traffic and Visitors!
*We Don't Make You Join Anything To Advertise With Us!
*No receiving hundreds of emails like Traffic Exchanges do!
*No wait forever for your solo to be sent out!
We send quickly with confirmation of the send!
Click here to check your solo's status up to 1 week after send!

See our terms of service here before purchasing ad!
You may also contact us for any further details or questions here. By making payment you agree to have read and accepted our terms of service.
Your Solo Ad Code is emailed to you immediately after purchase!
Emails are sent automatically to your paypal address!
Solo Codes allow for access to our mailer.. They never expire!
Use them whenever you wish. Give them away to your down lines to use
or use them as incentives for your members!

Be sure to check your email after purchase and spam or bulk mail folder also!!

EACH SOLO AD IS JUST $9.99
This solo is sent to our entire database of members!
Includes 200 Guaranteed visits with each Solo!


Click Here to submit your solo code after payment!
We do not permit Adult ads, hate ads, or illegal products to be advertised through our program. No sites may be advertised that break frames. No gifting schemes or chain letter sites! We do reserve the right to delete any ad we feel is inappropriate.
______________________________________

Credit Link Solos are only $3.30 ea.
No need to join anything!
This solo is sent to our members of Safelistsubmitters.com Credit Links and Our safelist Myad-Ventures members!



Receive A Minimum Of 75 Guaranteed Visits Per Solo!
Check your Paypal email after purchase!
Credit Links

+

Myad-Ventures!
You will receive an email with a solo code in it that allows you to send as soon as you receive it.
It will be sent to your paypal address connected to your paypal account..
Click here to see where our traffic comes from.
Click here to join our solo ads list.
You can see what others are promoting as well as your own.

Click here to see your solo ads status! Updated in real time.

Click here Get $37 In Free ads by Joining Safe-list com Mailing List!
Privacy .. Terms .. Help .. AdlandPro Free Classifieds .. Affiliates


2000-2014 Safe-list.com.. All rights reserved