You Will Not Find Easier Advertising!
1 WEEK OF UNLIMITED TEXT AD IMPRESSIONS JUST $14.99!

This is So Much Easier Than Any Text Ad Exchange and More Hits Too!
All Ads Seen On Over 1400 Marketing Sites!

No Clicking On Ads For Points Or Emails to read! Just watch the hits come in!

Your Text Ad Is Immediately Placed Into Our Trac-Ads Mass Ad Rotation System That GUARANTEES Hits To Your Website! Your url is sent to all these sites plus p2r sites!
Average amount of visits to your any site are usually between 100-200 visits on a 1- week campaign.

Your message must be seen where other marketers hang out!
Your Ads Work 24/7 ! You Can Check Your Hit Stats at Anytime!

Simpler is Better! This doesn't have to be complicated! Quit clicking on ads all day in exchanges to get points to get your website seen! Do it the easy way and save time and money! This Just works!
See The Text ads Below? This is what your ad will look like!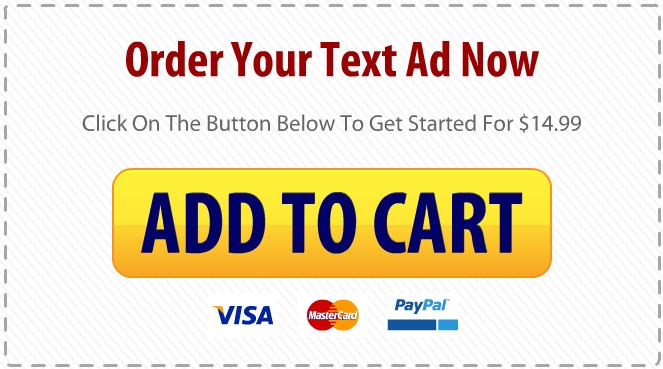 Click Here To Check Your Ads Stats Here
Check out all the advertising at safe-list.com Click here